WELCOME To Epilog Laser's
Zing Laser Starter Series
The Epilog Zing Laser starter series is Epilog's small format, high-quality engraving line. The perfect desktop laser cutter for everything from home use to starting a business, the Zing Laser provides high-quality engraving and cutting, at a low cost.
Epilog's smallest laser, the Zing 16 laser machine, features a 16" x 12" (406 x 305 mm) work area with 30 and 40-watt laser options, while the Zing 24, provides a larger 24" x 12" (610 x 305 mm) work area with 30, 40, 50, and 60-watt laser options.
And we're proud to say the Zing Lasers are 100% designed, engineered and built in the USA!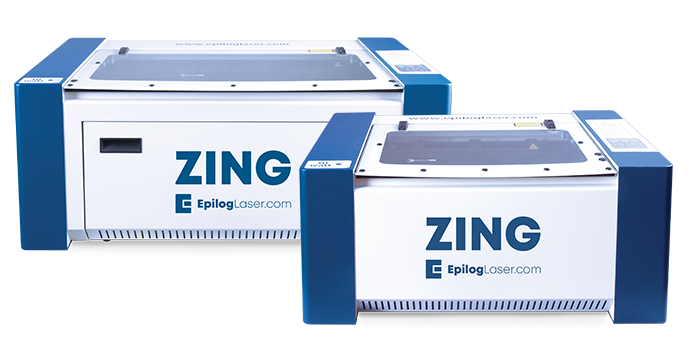 Zing 24 Laser:
24" x 12" (610 x 305 mm)
Zing 16 Laser:
16" x 12" (406 x 305 mm)
Laser Power Options:
Zing 16: 30 or 40 watts
Zing 24: 30, 40, 50, or 60 watts
Recommended Exhaust: 350 - 400 CFM (595-680 m3/hr) external exhaust
to the outside or internal filtration system.
Don't Miss Out On Our Summer Sale!
Our MADE-IN-USA products and business solutions will take your idea to the next level.
Zing Laser Standout Features
Engineered and Manufactured in the USA
Proudly designed, engineered, and manufactured in our Golden, CO headquarters at the base of the Rocky Mountains.
CO2 Metal & Ceramic Laser Tubes by Epilog
All-metal tube design provides higher beam quality and longer life with low recharge costs.
High-Speed Stepper Motors
The Zing's high-speed stepper motors provide high-resolution engraving and cutting quality. With the Zing you'll see the high-quality engraving for which Epilog is famous.
Network Your Laser Across Your Business
The Zing Laser series features built-in Ethernet, USB, and a new wireless connection for more options for networking your laser.
Higher Resolution Standard Optics
(Zing 24 only)
No additional, expensive lens packages needed for the highest resolution engraving with our Radiance™ Optics.
Easy-Access, Drop-Down Door
(Zing 24 only)
Front access door for easy access to the Epilog Zing 24 laser system work bed.
Accessories for the Zing Laser Series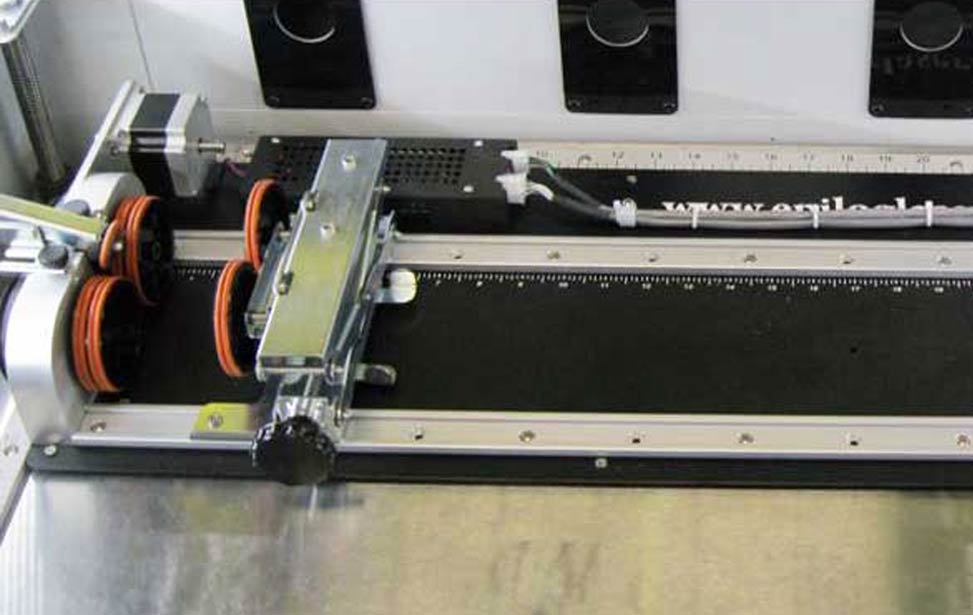 Rim-Style Rotary Attachment
The rotary accessory allows you to engrave wine glasses, Yeti mugs, champaign flutes, flashlights or any other cylindrical item up to 5.25" (133.4 mm) in diameter on the Epilog Zing Laser.
Setup is as easy as placing your product on the Rotary Attachment, raising or lowering the scissor lift to level the engraving area, and printing to the laser!
*The Rotary Attachment is ONLY available for the Zing 24.*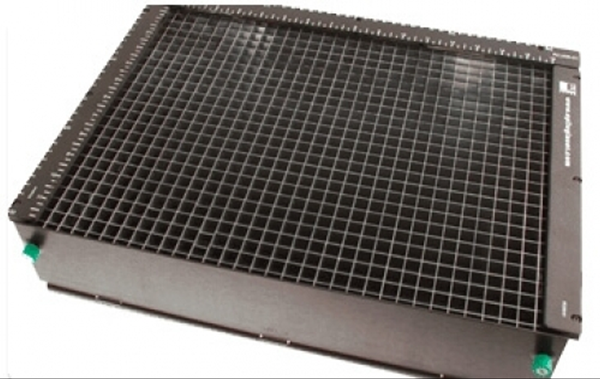 Laser Cutting Grid Insert
The Vector Cutting Grid on the Epilog Zing laser is used to lift materials being cut above the work surface. This allows the laser beam to pass cleanly through the material you are cutting and dramatically reduces underside reflections.
The air space below the vector grid is connected to the exhaust, so smoke is removed not only from the top side of the material, but also from the underside.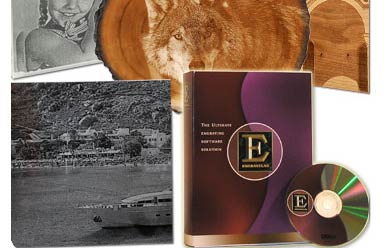 PhotoLaser Plus
by CADLink
PhotoLaser Plus takes photo engraving with your Epilog Fusion Series laser to the next level by easily processing photos for engraving on all types of materials. The easy-to-use software interface and powerful photo processing tools allow you to create the highest-quality photo engravings in the industry with just a few clicks.
Zing Laser Technical Specifications
Epilog Zing 16
Epilog Zing 24
Engraving Area
16" x 12"
(406 x 305 mm)
24" x 12"
(610 x 305 mm)
Maximum Material Thickness
4.5" (114 mm)
7.75" (197 mm)
Laser Wattage
30 or 40 watts
30, 40, 50, or 60 watts
Laser Source
State-of-the-art, digitally controlled, air-cooled CO2 laser tubes are fully modular, permanently aligned and field replaceable.
Intelligent Memory Capacity
Multiple file storage up to 64 MB. Rolling buffer allows files of any size to be engraved.
Air Assist
Attach an air compressor to our included Air Assist to remove heat and combustible gases from the cutting surface by directing a constant stream of compressed air across the cutting surface.
Laser Dashboard
The Laser Dashboard™ controls your Epilog Laser's settings from a wide range of software packages - from design programs to spreadsheet applications to CAD drawing packages.
Red Dot Pointer
Since the laser beam is invisible, the Red Dot Pointer on Epilog's Zing Laser allows you to have a visual reference for locating where the laser will fire.
Relocatable Home
When engraving items that are not easily placed at the top corner of the laser, you can set a new home position by hand with the convenient Movable Home Position feature on the Zing Laser.
Operating Modes
Optimized raster, vector or combined modes.
Motion Control System
High-speed micro stepper motors.
X-Axis Bearings
Shielded Roller Bearing Assembly on a Ceramic Coated Aluminum Guide Rail.
Belts
Advanced B-style Kevlar Belts.
Resolution
User controlled from 100 to 1000 dpi.
Speed and Power Control
Computer or manually control speed and power in 1% increments to 100%. Vector color mapping links speed, power and focus to any RGB color.
Print Interface
10 Base-T Ethernet or USB Connection. Compatible with Windows® XP/Vista/7/8/10.
Size (W x D x H)
28.75" x 22.125" x 11.75"
(730 x 562 x 298 mm)
38" x 27.25" x 15" (965 x 692 x 381 mm)
Weight
95 lbs (43 kg)
140 lbs (64 kg)
Electrical Requirements
Auto-switching power supply accommodates 110 to 240 volts, 50 or 60 Hz, single phase.
Maximum Table Weight
The Zing 16 and 24 have a static table weight of 50 lbs (22.7 kg) and a lifting table weight of 25 lbs (11.5 kg).
Ventilation System
350 - 400 CFM (595-680 m3/hr) external exhaust to the outside or internal filtration system is required. There is one output port, 4" in diameter.