WELCOME To Epilog Laser's
Fusion Edge Laser Machines Series
Taking our highest-quality engraving technology and incorporating it into a small-format desktop system allows customers to get the latest technology in a transportable format. The Fusion Edge features a touch-screen display panel, on-screen camera positioning, and job trace functionality for quick and easy artwork setup.
And we're proud that the Fusion Edge Lasers are 100% designed, engineered and built in the USA!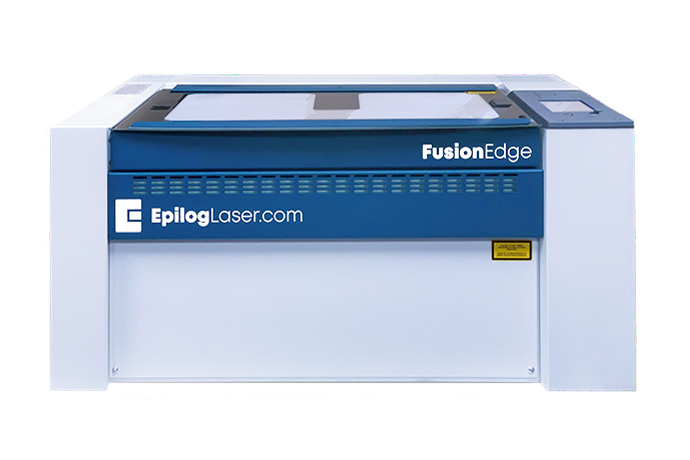 Fusion Edge Laser:
24" x 12" (610 x 305 mm)
Laser Source & Wattage Options:
Laser Options:
CO2 Laser 30, 40, 50, or 60 watt
OR

Fiber Laser 30 watt

Recommended Exhaust:
350 - 400 CFM (595-680 m3/hr) external exhaust
to the outside or internal filtration system.
Don't Miss Out On Our Summer Sale!
Our MADE-IN-USA products and business solutions will take your idea to the next level.
Fusion Edge Standout Features
Engineered and Manufactured in the USA
Proudly designed, engineered, and manufactured in our Golden, CO headquarters at the base of the Rocky Mountains.
CO2 Metal & Ceramic Laser Tubes by Epilog
All-metal tube design provides higher beam quality and longer life with low recharge costs.
SAFEGUARD™ Protection
Keep the mechanics of your laser machine cleaner than ever before with side enclosures, a fully covered x-axis assembly, and covered lens assembly.
Network Your Laser Across Your Business
The Zing Laser series features built-in Ethernet, USB, and a new wireless connection for more options for networking your laser.
Higher Resolution Standard Optics
(Zing 24 only)
No additional, expensive lens packages needed for the highest resolution engraving with our Radiance™ Optics.
IRIS™ Camera Positioning
An overhead camera provides an real-time picture of the working area for accurate artwork placement. Drag and drop your artwork on screen for the fastest work processing.
Touch Screen at the Laser with
Job Preview and Run Time
No additional, expensive lens packages needed for the highest resolution engraving with our Radiance™ Optics.
Accessories for the Fusion Edge Laser Series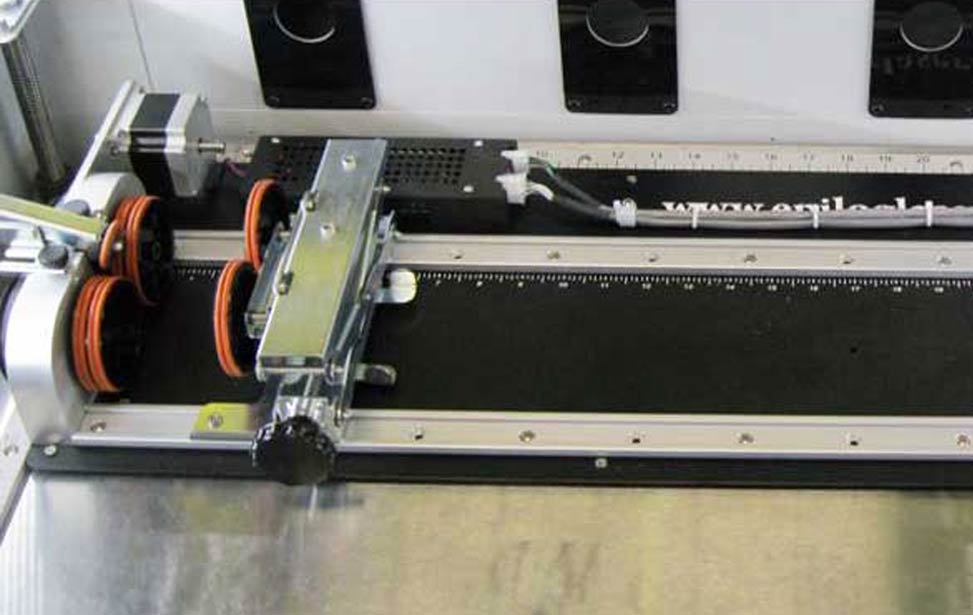 Rim-Style Rotary Attachment (Available Soon)
The rotary accessory allows you to engrave tumbler mugs, wine glasses, Yeti mugs, champaign flutes, flashlights or any other cylindrical item on the Epilog Edge Laser.
Setup is as easy as placing your product on the Rotary Attachment, raising or lowering the scissor lift to level the engraving area, and printing to the laser!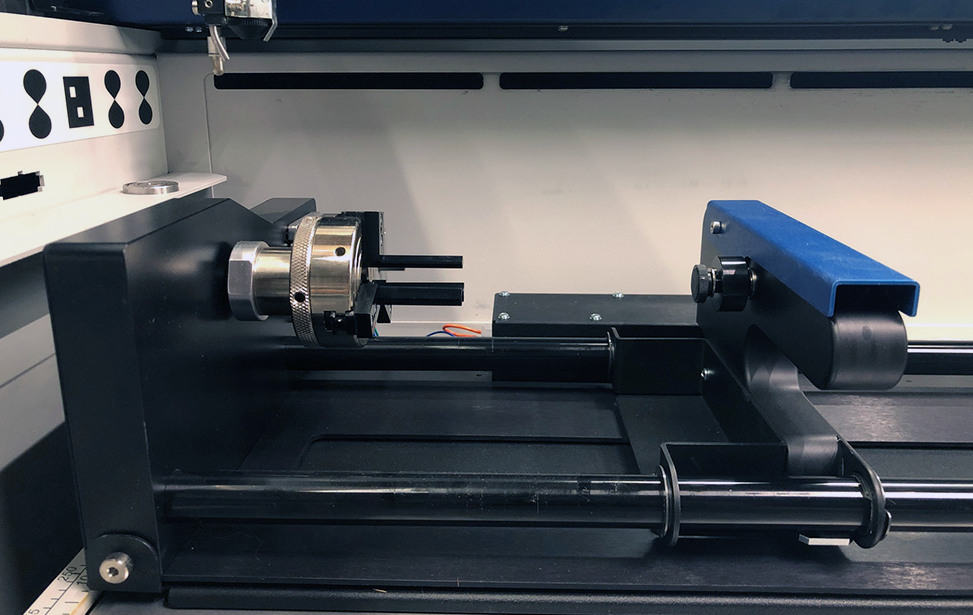 3-Jaw Chuck Rotary Attachment (Available Soon)
With the 3-Jaw Chuck rotary, objects are clamped into the device's 3-jaw chuck, allowing you to rotate cylindrical or oddly-shaped items in applications that demand more precise alignment.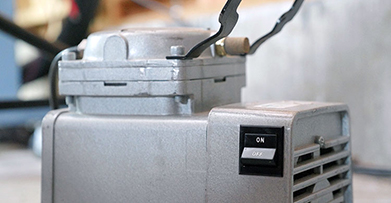 Air Assist Pump
This high-quality air compressor unit feeds 30 psi of air through the Air Assist structure, giving you the best cutting results available. The rubber vibration-dampening feet reduce the noise level of the compressor, and connection is a breeze with our quick-connect inlet and outlet ports on the compressor and the laser system.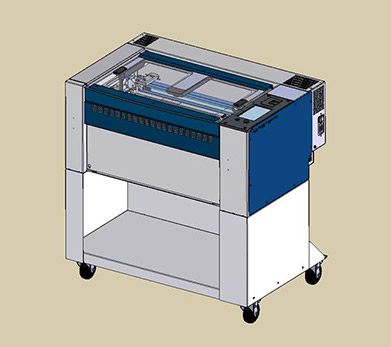 Fusion Edge Stand (Available Soon)
An easy-to-use stand for moving your laser around your workspace, this wheeled cart is specially designed for the Fusion Edge laser machine. It provides you greater versatility within your work environment and the ability to easily transport your machine to different locations.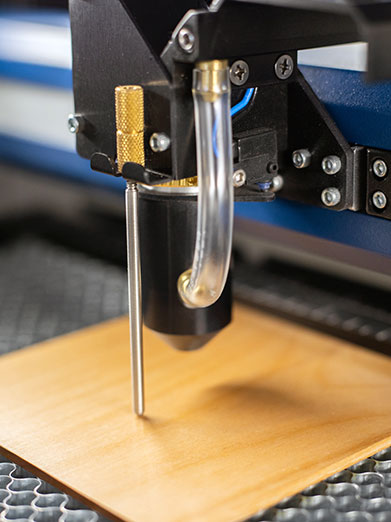 Additional Fusion Edge Lens Options (Available Soon)
In addition to the 2.0" lens, we offer special lenses for specific applications. 1.5" Lens: Highest-Resolution Engraving (Available Soon)
4.0" Lens: Cutting Thicker Materials and Inside Deep Areas (Available Soon)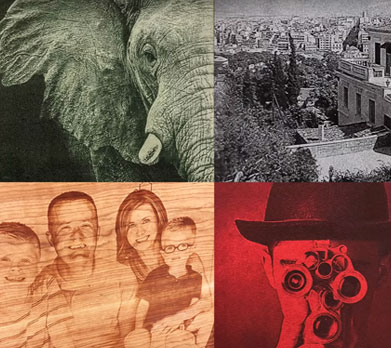 PhotoLaser Plus Software
by CADLink
PhotoLaser Plus takes photo engraving with your Epilog Fusion Series laser to the next level by easily processing photos for engraving on all types of materials. The easy-to-use software interface and powerful photo processing tools allow you to create the highest-quality photo engravings in the industry with just a few clicks.
Fusion Edge Laser Technical Specifications
Fusion Edge
Work Area
24" x 12"
(610 x 305 mm)
Maximum Z-Depth
7" (178 mm)
Laser Tube Wattage
CO2 - 30, 40, 50, or 60 watt


air-cooled, metal/ceramic tube, 10.6 micrometers

- OR -

Fiber - 30 watt


air-cooled, includes collimator, 1064 nm, Beam quality: M2 < 1.1

Software
Epilog Laser Software Suite: Laser Dashboard™ & Epilog Job Manager™
Memory
Multiple files, up to 1 GB total. Engrave any file size.
Operating Modes
Optimized Raster, Vector, and Combined modes
Motion Control
High-speed, continuous-loop, brushless DC servo motors using rotary encoding technology for precise positioning
X-Axis Bearings
Ground & polished stainless steel, Teflon-coated, self-lubricating bearings.
Belts
Advanced B-style double-wide Kevlar precision drive belts.
Resolution
Fully-flexible and user-controlled from 75 – 1200 dpi
Speed and Power
120 IPS (3.05m/s) with 5G acceleration. Computer-controlled in .001 increments up to 100%. Color mapping feature links Speed, Power, Frequency, and Raster/Vector mode.
Print Interface
USB, Wireless, and 10Base-T Ethernet. Windows 7/8/10 compatible.
Size (W x D x H)
39.5" x 26.5" x 17.9"
1003 x 673 x 455 mm
Weight
138 lbs (63 kg)
Electrical
110 to 240 volts, 50 or 60 Hz, single phase
Ventilation
350-400 CFM (595-680 m3/hr) external exhaust to outside or internal filtration unit required. One output port, 4" (102 mm) diameter.
Safety
Class 2 Laser Product – 1 mW CW MAXIMUM 600 – 700 nm