DCS UV-84DTS
Product Summary
The allure to bigger, better, and faster is always there. With the UV-84DTS, the large-format printer market now has the ideal option for doing more. It's simple really. You can develop more applications, produce more products, and generate more profits with this 4' x 8' (120cm x 243cm) UV LED printer, the largest from DCS.
Not only has the durability and serviceability of the model range increased, but there have also been significant advancements on the performance and production side that our customers will appreciate as well.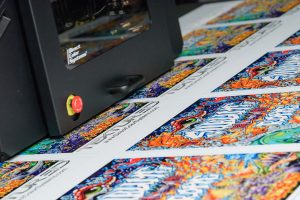 Durable and Dynamic
TEXTUR3D effects
With the ability to produce durable and dynamic TEXTUR3D effects, photo-quality prints, and fine detail marking across a wide range of substrates, there is a lot to like and a lot to see in this UV LED printer.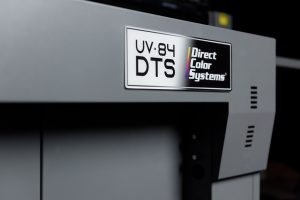 Larger Capacity
Bulk Ink System
Built with a double gantry system for increased printer stability, combined with industrial Ricoh print heads and the DCS trouble-free ink delivery system, operators can reliably print job after job.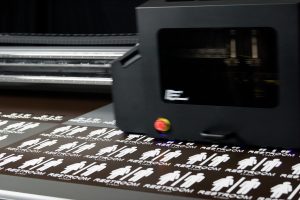 Improved
Service/Reliability
With DCS patented technology, quick work is made of high-profit signs with the fastest ADA/Braille UV printer in the world.

Product Highlights
Wide Format Print Area
Print up to 4' x 8' (120cm x 243cm)
Z-axis Height Fully adjustable heights to accommodate substrates up to 4" thick (10cm)
Speed - 6" x 8" (15cm x 20cm) MEN ADA/Braille sign prints in less than 1 min. 30 secs. A full 4' x 8' of TEXTUR3D prints in 60 minutes.
Color Byte 11 - The newest edition of Color Byte not only gives more control to operators, but it has been optimized for ease of use.
Vacuum Table - An integrated vacuum table to holds flat substrates in place is a standard option on all UV-84DTS units
Produces ADA-compliant/Braille Signage - The Fastest ADA/Braille UV printer in the world (patented technology)
TEXTUR3D™ - 3-dimensional prints for a unique look and feel, plus standard flat prints
Computer and Monitor Included - All UV-84DTS systems ship complete with a computer and monitor optimized for the latest version of Color Byte.
Industrial Ricoh Print Heads - Ricoh print heads and the DCS trouble-free ink delivery system allow operators to reliably print job after job.
Print Resolutions - With multiple uni- and bi-directional options up to 1200dpi, resolutions are available to meet the demand of every job.