WELCOME To Epilog Laser's
FiberMark Metal Marking Laser System
Epilog's FiberMark 24 is your solution for etching and marking all types of bare metals and plastics. Print to the laser directly from any graphic software program for easy job setup, and etch an entire table full of parts at one time.
Directly engrave on most metals
Mark engineered plastics with your logo
Etch barcodes, serial numbers, and images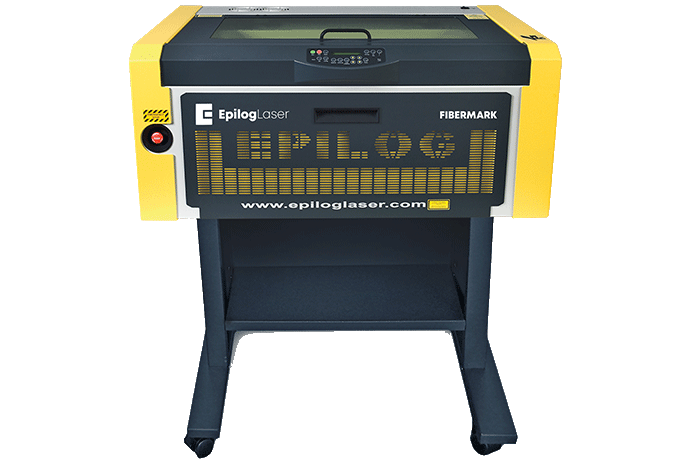 Fibermark (Fiber Laser):
24" x 12" (610 x 305 mm)
Laser Power Options:
Fiber Laser Source: 30 or 50 watts

Don't Miss Out On Our Summer Sale!
Our MADE-IN-USA products and business solutions will take your idea to the next level.
Epilog FiberMark's Standout Features
High-Quality Lasers
Your Business Can Rely On!
We design, engineer and manufacture all of our laser systems in our headquarters in Golden, CO, USA.
Open Architecture Software Interface
Send projects to the laser through a simple networkable print driver, allowing you to use the software you choose and are comfortable with.
Non-Contact Marking: No Fixturing or Workhold Needed
With a the FiberMark's flatbed laser technology, you won't waste time fixturing your piece down to the work area. No need to brace parts or replace expensive engraving bits or tools as the laser will give you years of use without replacement.
Multiple Mark Types for Many Applications
Etch, Polish and Anneal with One System
Create multiple marks types depending on the fit and needs of your application with an easy-to-use materials library of presets.
Mark and Etch a Wide Variety of Metal & Plastic Materials
Etch any non-coated metal and many engineered plastics, all with one laser system. You can even place multiple material types in the work area and engrave everything within one job cycle. The FiberMark combines easy-to-use features and a varsatility design to improve your workflow and turn times.
Accessories for the Fusion Pro Lasers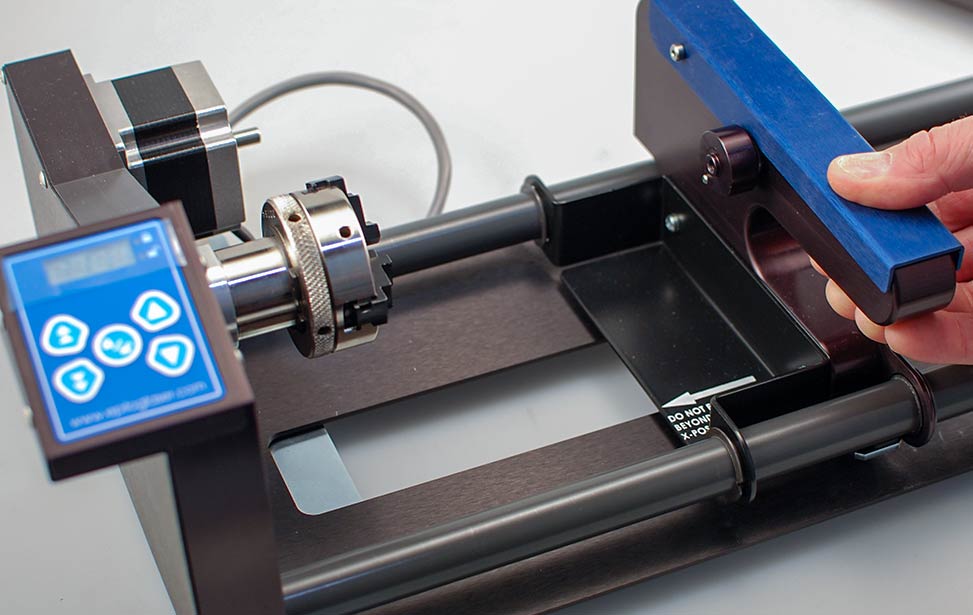 3-Jaw Chuck Style
Rotary Attachment
Add on the dual source option to your Fusion Pro by choosing both a CO2 laser (50, 60, or 80 watts) and a fiber laser (30 or 50 watts) to work with a wider range of materials.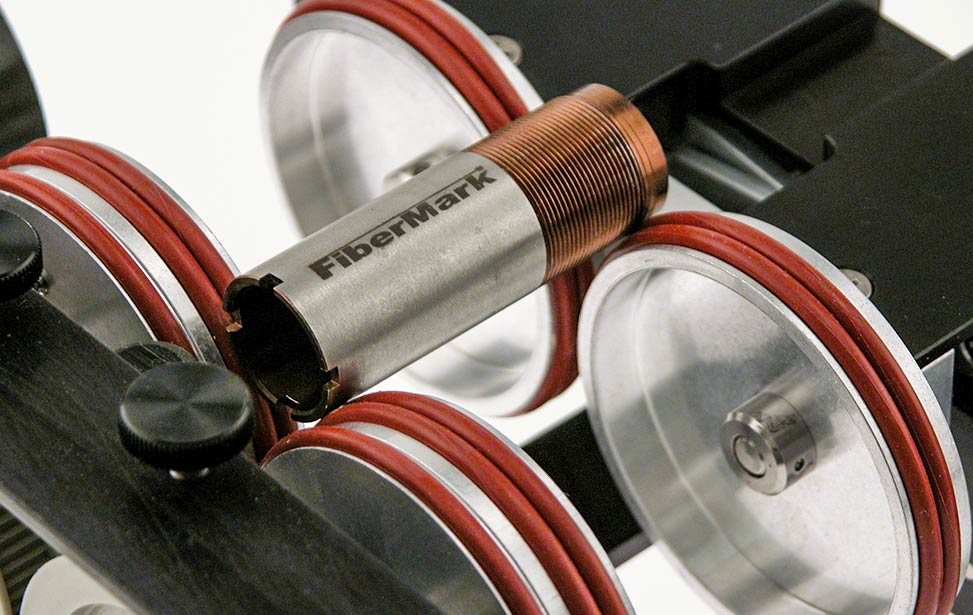 Rim-Style
Rotary Attachment
Epilog's Rim-style rotary attachment will ensure all of your parts receive a professional mark that meets the highest standards. Great for marking cylindrical items, place your item on the two rim-style wheels and start engraving.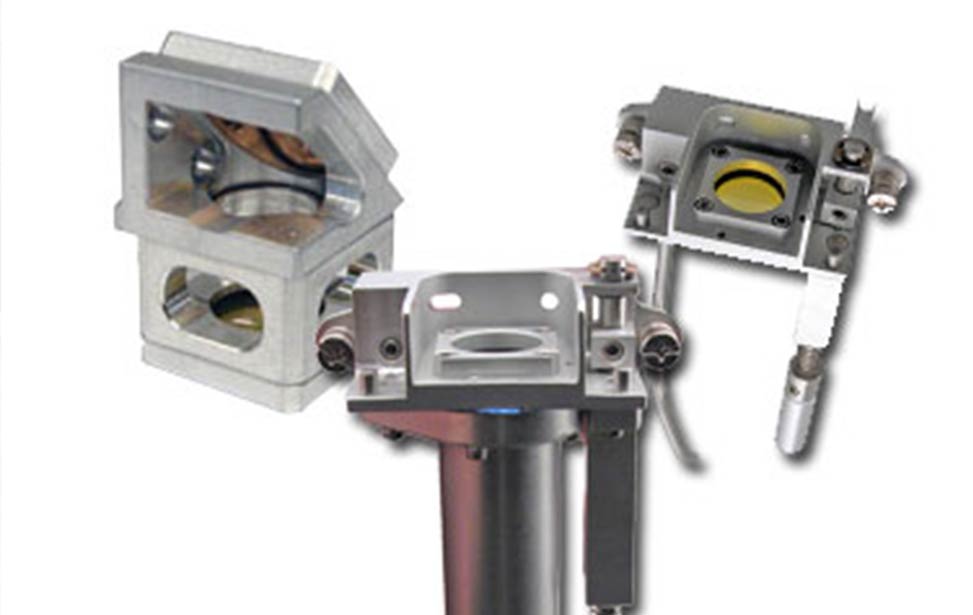 Optional Lenses
Epilog's Fiber Laser systems come with a standard 3" (FiberMark 24) or 5" (Fusion M2) focus lens. This will suffice for most metal/plastic marking application. However, users will find some applications require our more specialized lenses.
1.5" Lens:
Provides an additional 1.5" of z-axis clearance for both engraving flat stock and for rotary use. 1.5" lens also has a smaller spot size and provides excellent detailed engraving for smaller text and artwork.
5.5" Lens:
Offers more depth of field than our standard lens on the fiber systems. Amount of depth of field will vary depending on the material, wattage and type of mark desired. Provides consistent engraving/marking on curved surfaces or slightly bowed surfaces. Excellent for engraving on the inside/bottom surface of an item (bowl, box, tooling).
FiberMark Technical Specifications
Epilog FiberMark 24
Engraving Area
24" x 12"
(610 x 305 mm)
Focal Length (F-Theta Lens)
3" (76.2 mm)
Maximum Material Thickness
5" (127 mm)
Laser Wattage
30 or 50 watts
Laser Type
Solid State Pulsed Ytterbium Fiber Laser (air cooled).
Mode of Operation
Pulsed 20-80 kHZ.
Repetition Rate (Frequency)
20 kHZ - 100 kHz depending on the laser wattage.
Intelligent Memory Capacity
Multiple file storage up to 64 MB. Rolling buffer allows files of any size to be engraved.
Air Assist
Attach the included air compressor to our Air Assist to remove heat and combustible gases from the marking surface by directing a constant stream of compressed air across the marking surface.
Laser Dashboard
The Laser Dashboard™ controls your Epilog Laser's settings from a wide range of software packages - from design programs to spreadsheet applications to CAD drawing packages.
Red Dot Pointer
Since the laser beam is invisible, the Red Dot Pointer on Epilog's Fiber Laser allows you to have a visual reference for locating where the laser will fire.
Relocatable Home
When engraving items that are not easily placed at the top corner of the laser, you can set a new home position by hand (FM 24) or joystick (FM Fusion) with the convenient Movable Home Position features on the FiberMark Laser.
Operating Modes
Raster, vector or combined modes.
Motion Control System
High-speed, continuous-loop, DC servomotors using linear and rotary encoding technology for precise positioning.
X-Axis Bearings
Ground and polished stainless steel long-lasting bearing system. Self lubricating on the Fusion M2
Belts
Advanced B-style Kevlar belts.
Resolution
User controlled from 75 to 1200 dpi
Speed and Power Control
Computer or manually control speed and power in 1% increments to 100%. Raster and vector color mapping links speed, power and focus to any RGB color.
Print Interface
10 Base-T Ethernet or USB connection. Compatible with Windows XP/Vista/7/8/10.
Size (W x D x H)
34.5" x 24.5" x 16"
(876 x 622 x 406 mm)
Weight
120 lbs (55 kg)without stand
Electrical Requirements
Auto-switching power supply accommodates 110 to 240 volts, 50 or 60 Hz, single phase.
Maximum Table Weight
200 lbs (90 kg) for static and 80 lbs (36 kg) for lifiting.
Ventilation System
External exhaust or internal filtration system is required via single 4" (101.6 mm) output port.